About the Leroy Anderson Foundation, Inc.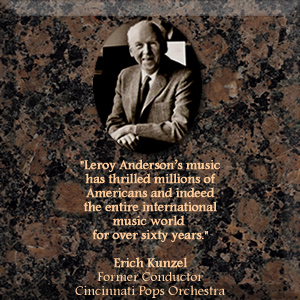 The Leroy Anderson Foundation honors the life and work of Leroy Anderson, the American composer of light concert music, who lived from 1908 to 1975.
Through the Leroy Anderson Foundation the Anderson family works to help people learn about this great American composer and to support music and music education.
The Leroy Anderson Foundation was established in 2010 by the composer's widow Mrs Eleanor Anderson. The Foundation is directed by the Anderson family and maintains an office at the composer's home in Woodbury, Connecticut.
The Leroy Anderson Foundation is a 501(c)3 charitable non-profit organization and welcomes support from individuals, corporations, and other foundations. The Leroy Anderson Foundation has been designated as a tax-exempt public charity by the IRS. Donations to the Leroy Anderson Foundation are tax deductible.
The Foundation seeks to create partnerships with others to further the foundation's goal of honoring Leroy Anderson and supporting music and music education.
Follow the links from this page to learn about the foundation's projects to honor Leroy Anderson and the use of Leroy Anderson's music around the world.
Contact the foundation by writing to:
Leroy Anderson Foundation, Inc.
P.O. Box 447
Woodbury CT 06798
USA