Welcome to the website of the Leroy Anderson Foundation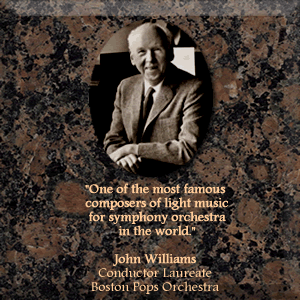 The Leroy Anderson Foundation honors the life and work of Leroy Anderson, the American composer of light concert music, who lived from 1908 to 1975.
Some of his best known compositions include Sleigh Ride, Blue Tango, The Typewriter, The Syncopated Clock, Bugler's Holiday and Fiddle Faddle.
Through the Leroy Anderson Foundation the Anderson family works to help more people learn about this great American composer and to support music and music education.
Follow the links from this page to learn about Leroy Anderson's connections...
...to Woodbury, Connecticut where he lived with his family and wrote many of his compositions;
...to Cambridge, Massachusetts where he grew up, was educated at Harvard and began his career with the Boston Pops Orchestra;
...and to Sweden where Leroy's parents were born.
You can also learn about the use of Leroy Anderson's music around the world and the foundation's projects to honor Leroy Anderson.
~ ~ ~
"Leroy Anderson's compositions as well as hundreds of arrangements he wrote for various combinations of instruments permeate American culture more thoroughly than the work of any composer of any century."
- Janet Frank, cellist, National Symphony Orchestra, Washington, D.C.; quotation from "Syncopated Clock, Indeed", Janet Frank, The American Scholar (Phi Beta Kappa Society, Washington, D.C.), Summer 2008
~ ~ ~
"Leroy Anderson's orchestral miniatures, including "The Syncopated Clock", "Sleigh Ride", and "Blue Tango" are among the best-known American concert music written after Gershwin's "Rhapsody in Blue" and Copland's "Appalachian Spring"."
- Howard Pollack, Harvard Composers: Walter Piston and His Students from Elliott Carter to Frederic Rzewski (Metuchen, N.J., & London: The Scarecrow Press, Inc., 1992): pages 20-40. "Songs Without Words: The Orchestral Miniatures of Leroy Anderson."